Robotic Knee Platform
Misaligned, Broken and Slippery: OsteoShape to the Rescue
Problem
Another model company had built a model to demonstrate the client's new robot. As required, it included the pelvis, femur, and tibia. In the model, however, the femoral head had been placed lateral to and outside of the acetabulum, misrepresenting the center of rotation and mechanical alignment.
When in use, the model was moving on the countertop which interfered with accurate tracking of the anatomy. Finally, the tibial model was fractured during shipment due to the weight of the foot, which had been rigidly attached to the distal tibia.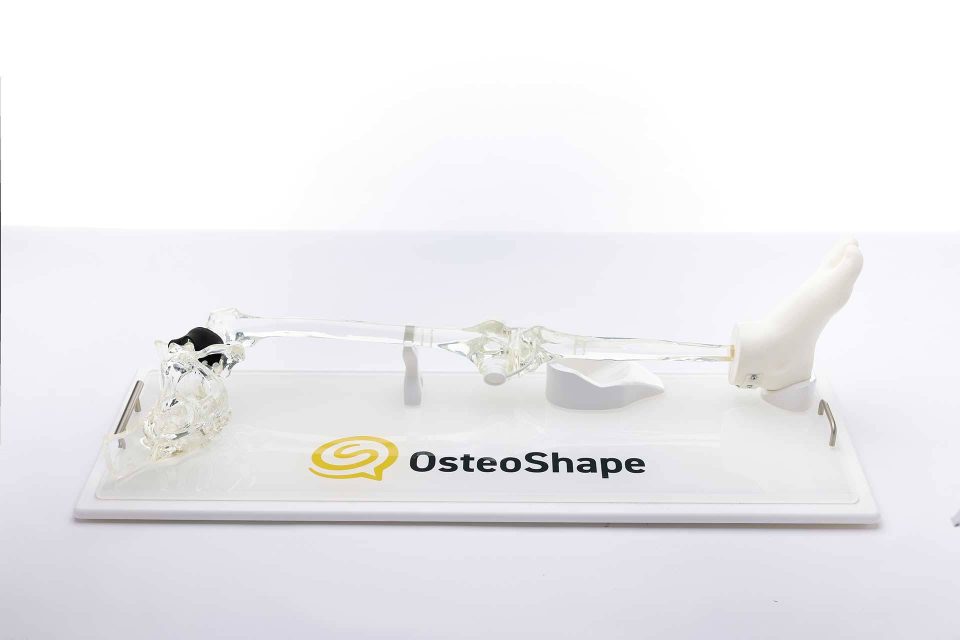 Our Solution
After meeting with the customer in person, we moved to address the problems described above, OsteoShape created a prototype for evaluation at the customer's cadaver lab and asked them to validate our proposed solutions:
The femoral head of the model was positioned in the acetabulum and secured with a synthetic capsule. Biomechanics restored!
The foot model with soft tissue was made separate from the tibia and fabricated from silicone to enable connection during use and dissociation during shipment. No more breakages!
A base was designed with supports for long bones and a firm attachment for the pelvis. A "sticky" silicone ridge was applied to the bottom of the base to prevent slippage during demonstrations. The model no longer moves during demonstrations!
It's my pleasure to recommend [OsteoShape]. After having worked with several other model developers over my 19 years at either Zimmer or Biomet, I can definitely say you guys are doing the best work, are a pleasure to work with, and offer the best customer service!
Sr. Product Manager — Robotics Recon Development