Shoulder Patient Education
Educational Tools For Surgeons
Problem
The client's shoulder portfolio had evolved with new product offerings and no longer fit on their previous base. The base also needed to reflect their new identity.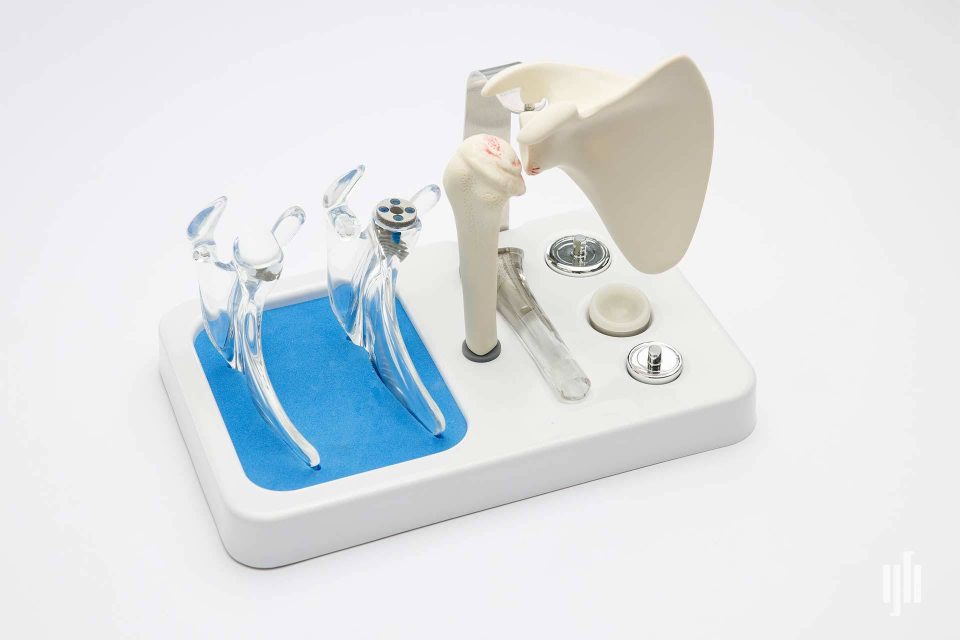 Our Solution
OsteoShape was able to create a clean and bright organizing base for surgeons to better explain shoulder arthritis to their patients and present all available treatment options.
White bone models were also developed to represent arthritic anatomy to better assist surgeons as they describe the clinical need for treatment.
Clear acrylic models were built to represent all treatment options. Embedded implants were confirmed to represent accurate placement within the bone.
Implant replicas, which closely mimic actual devices, were created to include grit-blasted and highly polished surfaces, as well as color-matched polyethylene inserts. They also include realistic porous coated ingrowth surfaces.
A lightweight vacuum-formed base.
Customized shipping boxes were developed in close coordination with the client's team and fulfillment organization.
Looks perfect. I wouldn't change a thing.
Senior Product Manager